Whole Solutions: Warpwire's Integration with Zoom
June 2, 2020

Like most things at Warpwire, it all started with client collaboration. For the past 18 months, we've been developing a deep integration with Zoom's web conferencing software. Our client partners shared their desire for a secure and convenient way to store and organize their Zoom recordings.
While we've been working on it for a while, this capability has proved more and more useful during the challenges of Covid-19. Like many of you, we've been hopping from one Zoom meeting to the next since mid-March, and we're getting glimpses of how vital video conferencing will continue to be well into the future.
As Warpwire's integration with Zoom has matured, we want to highlight the big picture of how it all works and what's next.
Reliable Zoom Integration in Warpwire
Our goal has been to make it super simple to automatically import Zoom recordings. From there, each recording gains seamless access to all of Warpwire's robust media features. Read more about Warpwire's App within the Zoom App Marketplace.
To begin, our integration with Zoom allows users to connect their Zoom account to Warpwire and save their Zoom cloud recordings directly into Warpwire Media Libraries. Lectures, webinars, and one-on-one meetings can all be saved without ever having to download, upload, and share elsewhere. The benefit? Big savings on your time and effort as you share content within your institution.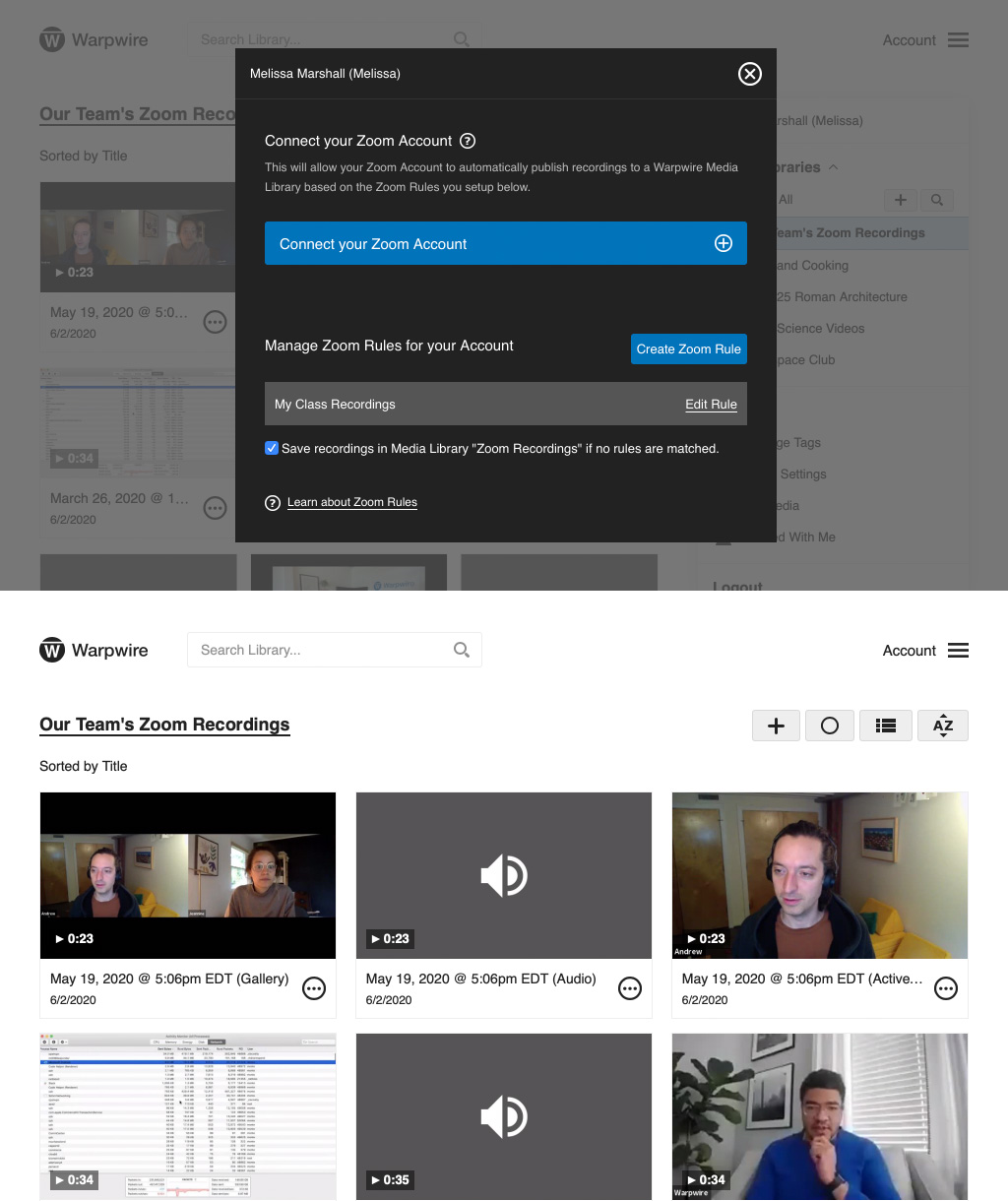 Based on your Zoom configurations, recordings imported into Warpwire may have a range of layouts—including active speaker, gallery view, shared screen, and audio only. These layouts can be configured within Zoom's cloud recording settings, which gives watchers options for how they later consume the content via Warpwire. Metadata such as recording time, chats, and transcriptions are also imported into Warpwire, based on availability within your Zoom account.
Once in Warpwire, Zoom recordings can be clipped and embedded, have additional metadata added, be shared just with your audience, and collect Hotspot Analytics. Imported recordings are Warpwire media assets and thus carry all the same security features too.
Warpwire's Zoom Rules
A feature unique to Warpwire is the ability for users to create Zoom Rules. Zoom Rules allow users to leverage one or many rules within Warpwire to determine which Zoom recordings save to which Warpwire Media Libraries.
With a Zoom account connected to Warpwire and a Zoom Rule created, once a Zoom cloud recording has completed, the rules are run behind-the-scenes to determine a match. If a rule match occurs, recordings (and associated metadata) will be automatically saved and published to the Warpwire Media Library designated within the Zoom Rule. Zoom Rules can determine where recordings are saved based on the Zoom Meeting ID or Topic.
This cuts out extra steps not only of downloading a recording—only to upload it onto one's LMS or internal website—but also of deciding how and where to organize each new Zoom recording.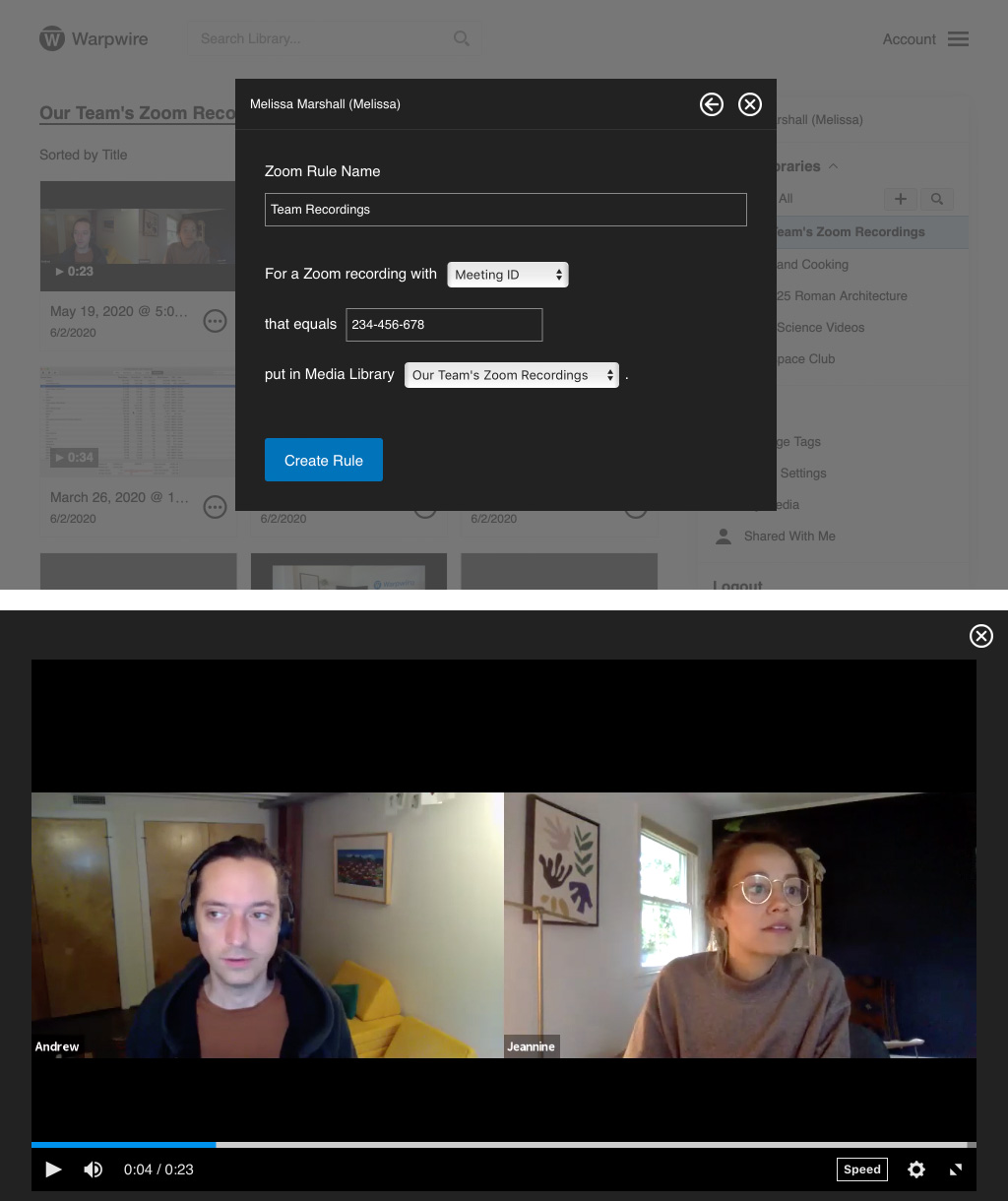 With the Warpwire integration with Zoom enabled for the institution, Warpwire allows all users to connect their Zoom account and create Zoom Rules. As a result, asset organization is in the hands of both Institutional Administrators and educators who can then tailor courses to learners' needs and their own teaching styles. Beyond the classroom, any content creator can incorporate Zoom Rules into individual and team projects that require Zoom meeting recordings to be stored and shared for watching at a later date.
Listening-based partnerships continue to shape our support and feature development, as was the case with a recent request from our friends at Stanford Continuing Studies. Now in Warpwire, whenever multiple Zoom Rules match, recordings can simultaneously be saved to multiple Media Libraries. This is useful for situations where one Zoom recording needs to be shared with different groups of users.
Warpwire's Zoom Recording Log for Institutional Administrators
With our Zoom integration, Warpwire continues to envision ways for Institutional Administrators to have all they need on hand to simplify management of their institution's content. Within the Warpwire Admin Tool, admins can monitor Zoom recording activity across their institution's instance using the Zoom Recording Log.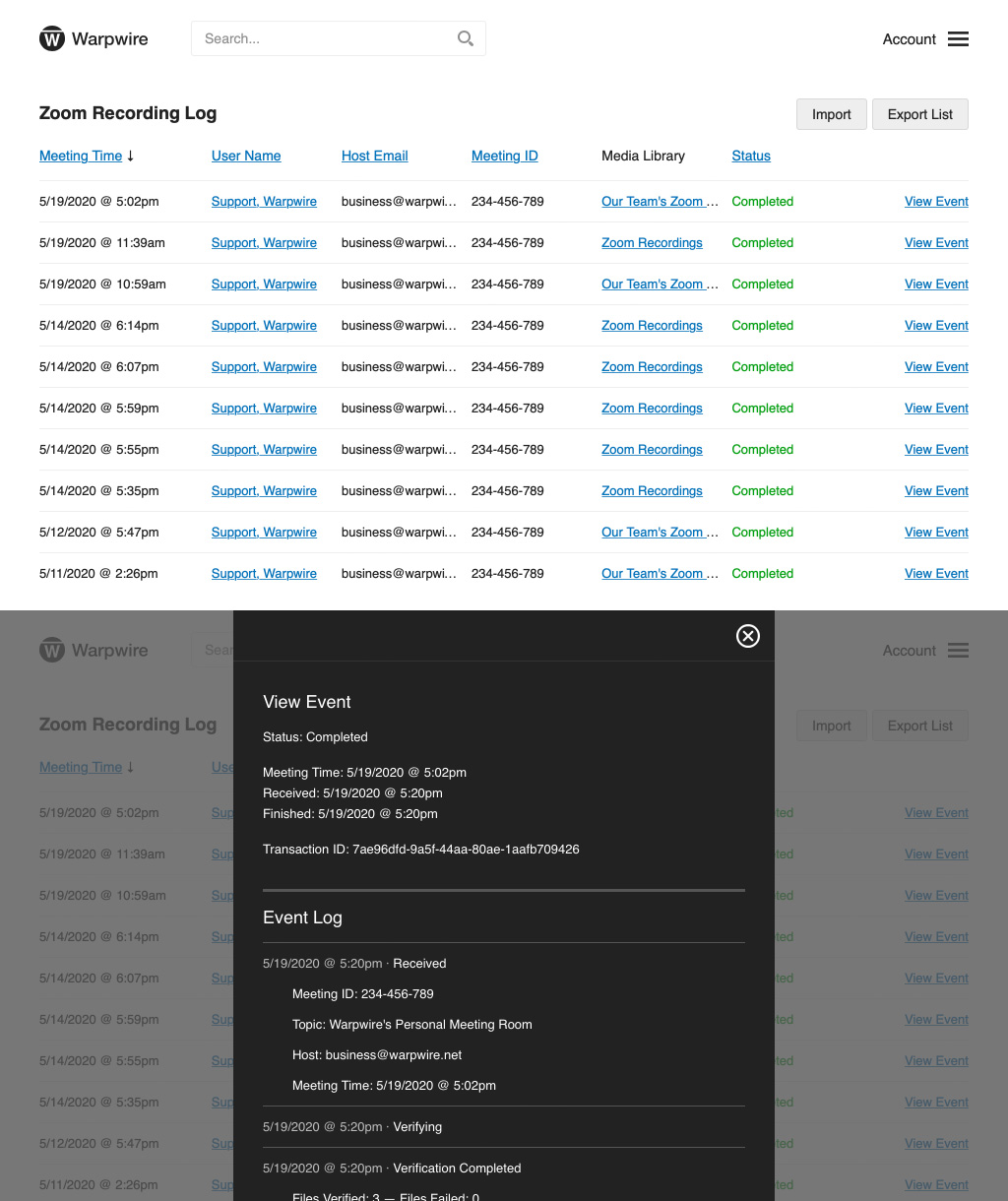 This view makes it easy for admins to see a recording's current status, topic, who hosted the meeting, when it took place, and the Meeting ID. Such a detailed view allows admins to see all of the imports going on across the Warpwire instance, and to troubleshoot based on users' specific needs. Additionally, Institutional Admins can export to CSV a report of all media assets contained within Warpwire and filter them by type to gauge the level of usage from Zoom recordings.
To facilitate educators' ease of use, Warpwire also made it possible for Institutional Admins to import Zoom Rules ahead of time. Admins can easily import multiple Zoom Rules in a CSV file at the beginning of each course to save educators' time by simplifying technical setup and reducing manual input and fiddling.
What's Next with Warpwire's Zoom Integration?
Warpwire has more exciting innovations with Zoom to come! Based on feedback from our friends and clients, the development team is currently working to enhance our video player to enable playback of multiple video sources at once. This feature also allows users to pick and choose how the various video sources are displayed—such as which is large and which is small, similar to picture-in-picture viewing. This will allow watchers to change their viewing experience in ways that are best for them as the videos play back.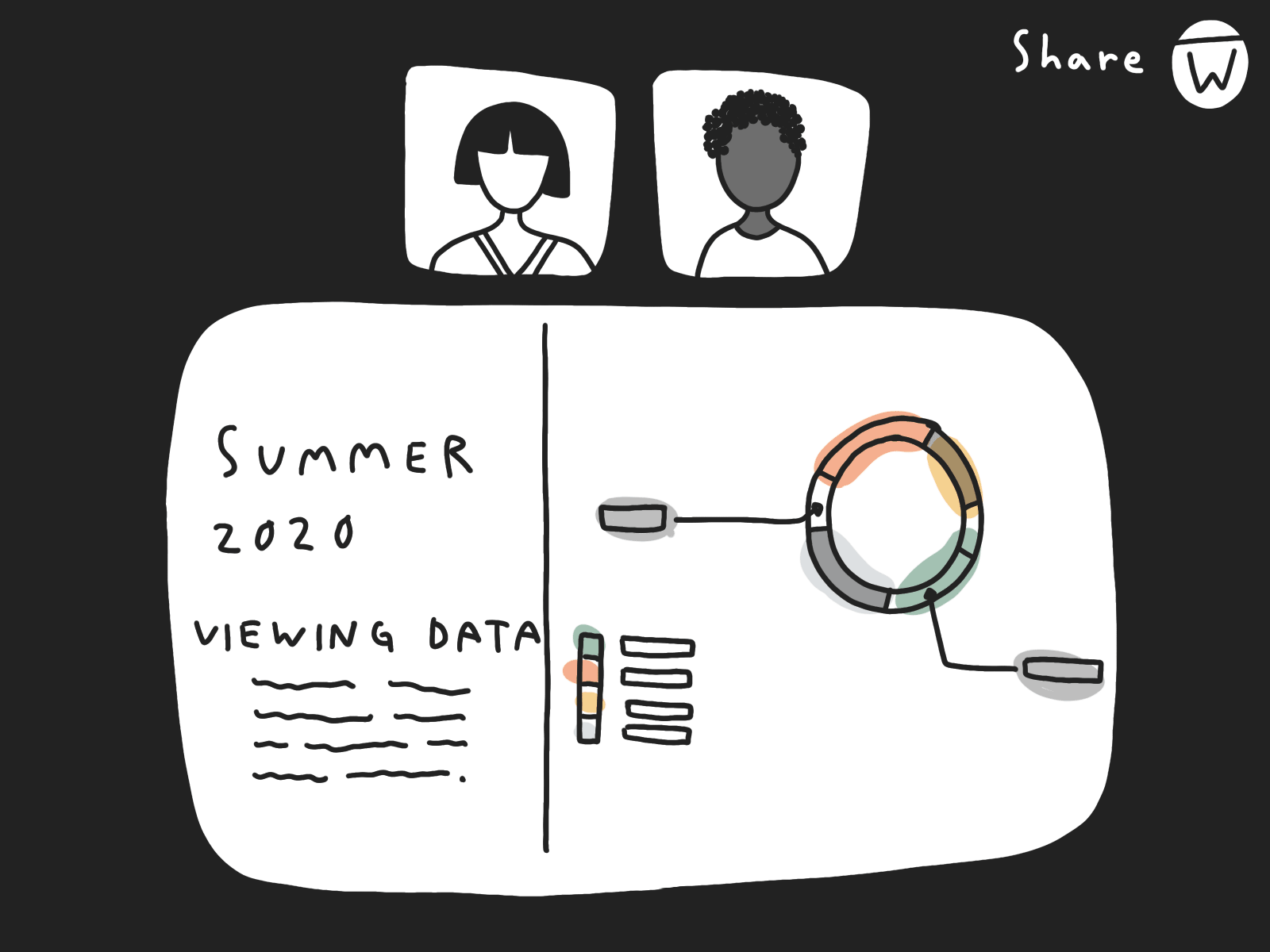 Warpwire is also working on an automated rules engine to perform actions across all media, such as deleting content after a certain amount of time or inactivity. This will help Institutional Admins better manage their content based on retention policies within their organization and, in particular, can ensure Zoom recordings are active for just the desired amount of time.
We welcome your additional feedback and ideas about how we can continue to improve and evolve Warpwire's integration with Zoom.
Happy Warp-Zooming!