While Warpwire provides deep and intuitive integrations with the LMS, sometimes you have stand-alone video needs. Let's imagine that we're the chair of a student group at our institution. Just because we aren't teaching a class doesn't mean we don't use video.
To create a repository of content for the club, I'd start by creating an ad hoc Media Library in Warpwire.
The easiest way to do this is to login to Warpwire directly, instead of from your LMS. The link for this view will vary based on your institution's Warpwire setup.
From this page, click the plus icon to create a new Media Library.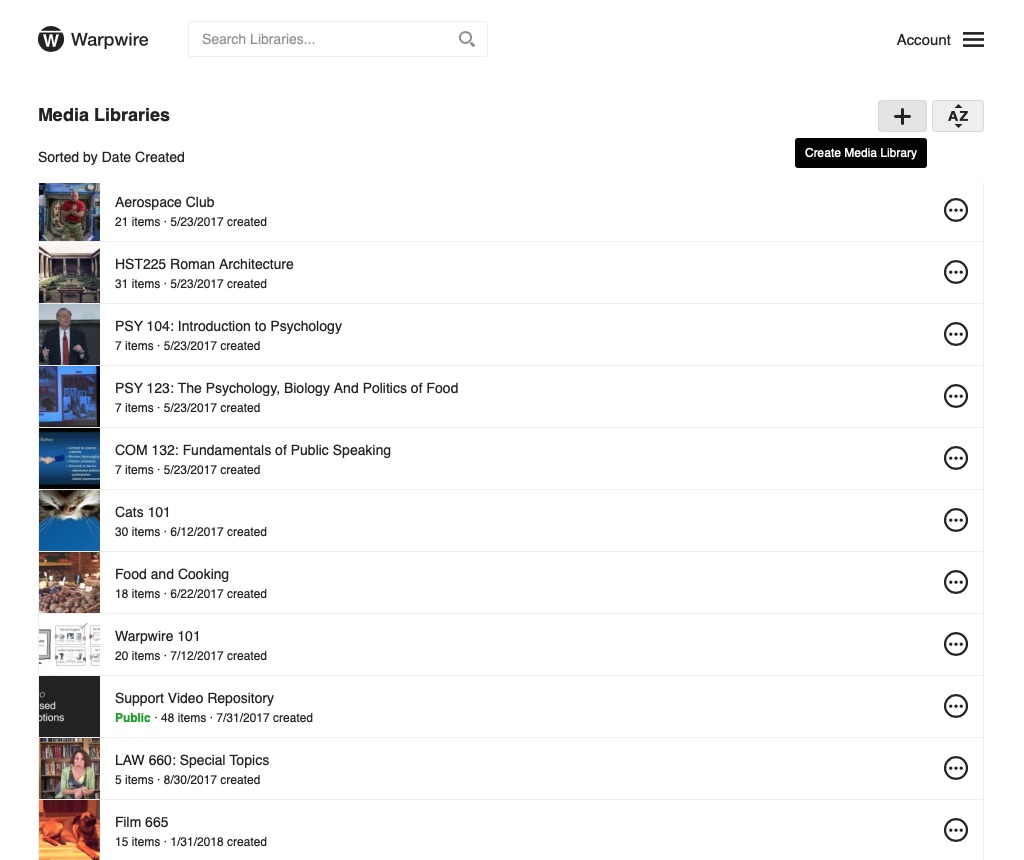 Or, if you're in your LMS, click the name of the Media Library in the upper-left of the frame and click "Create New" from the dropdown menu.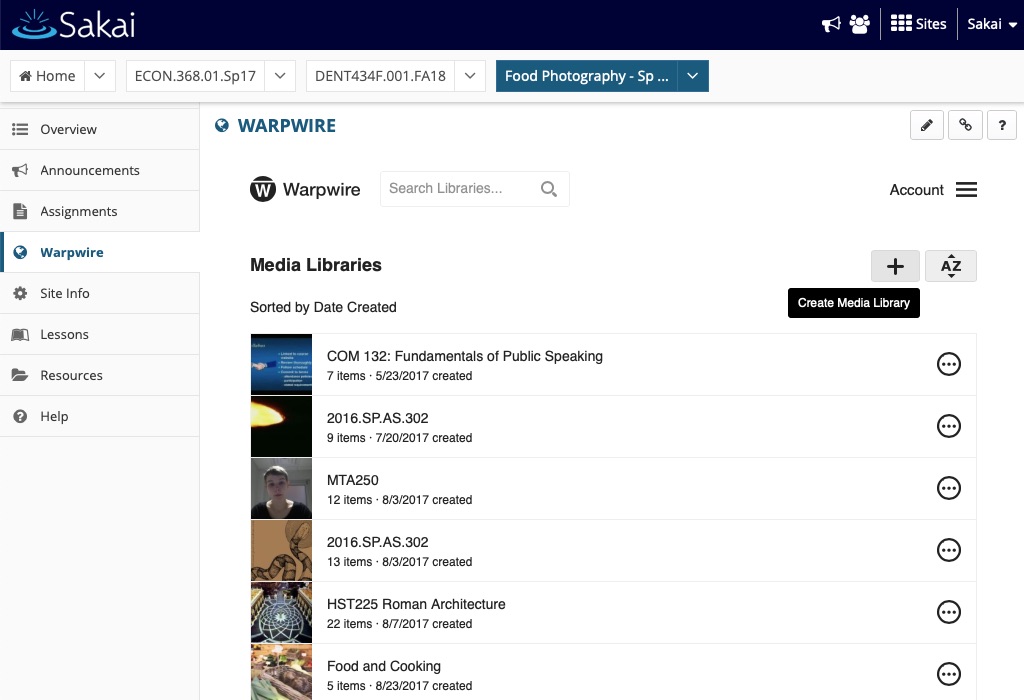 Give your new library a name, and click "Create."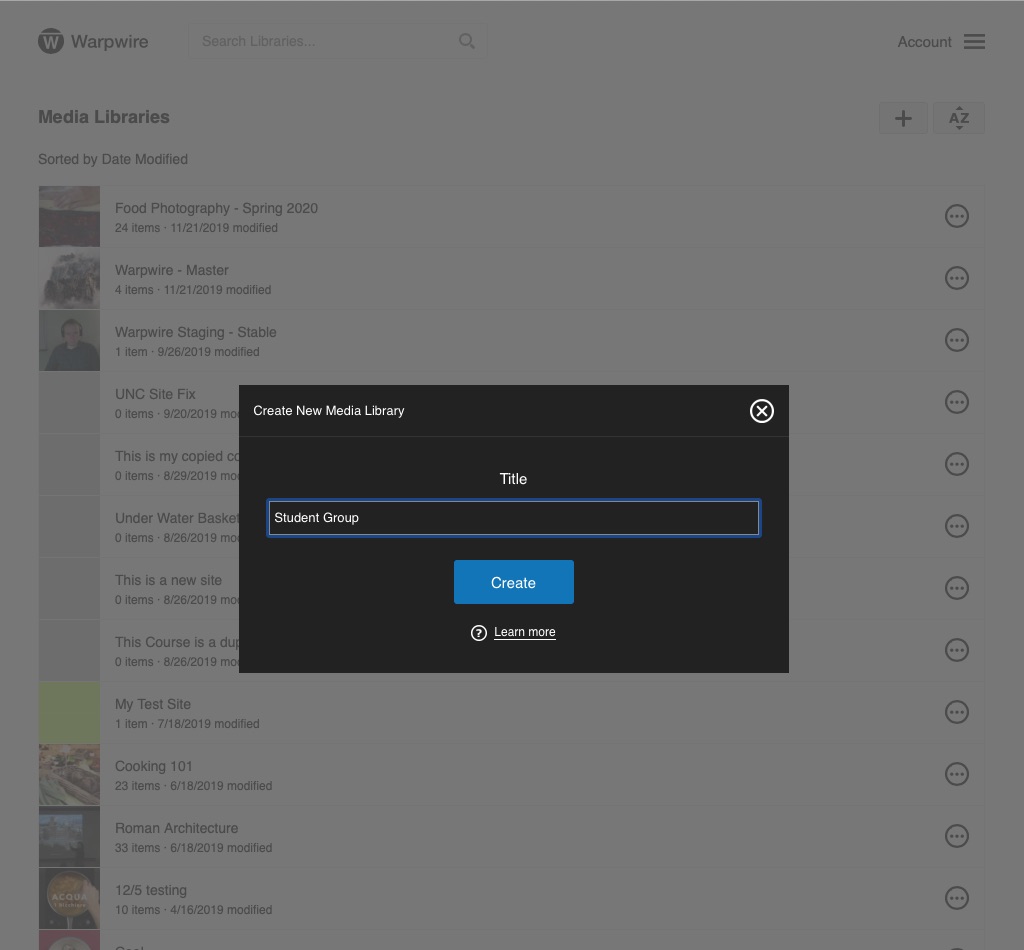 You can easily change the settings for your new library by clicking the three dots next to its name, and selecting "Settings" or "Share."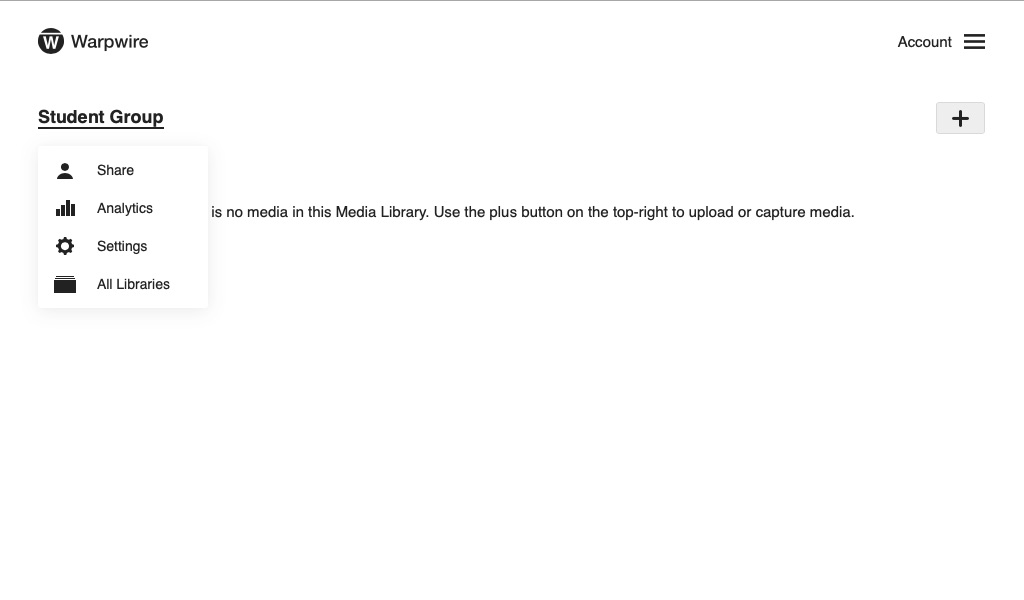 Here you can decide if everyone you share the library with should be able to upload content to it, or just you and any other admins.
From the "Share" page, you can decide who has access to the library you've just created. You can make it private, public, open to your whole institution, or share with particular users and groups. This last option makes the most sense for a student group.
When you select "Share with additional Users and Groups", you'll see a search box where you can find the users and groups you want to share with.
For our student group, we can search for the members individually.
Once we've added all the students in our group, we can click "Edit Permissions" at the bottom of the page to set permissions for particular individuals.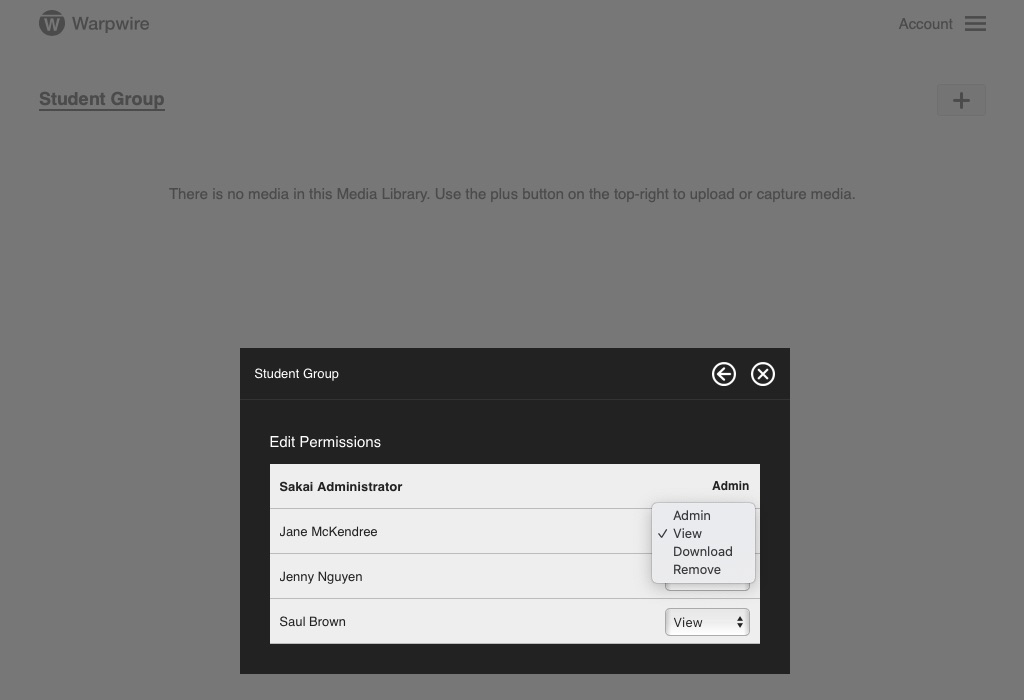 I can make someone an admin of the library, grant them viewing permission, give them specific permission to download files, or remove their access.
Now that we've given access to everyone who needs it, we can start adding content to the Media Library.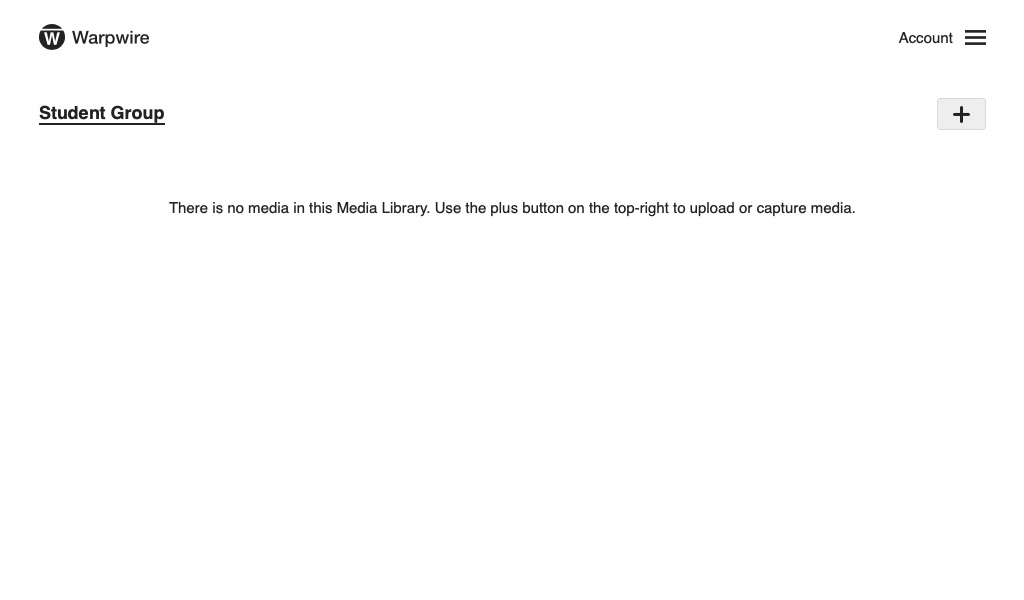 We can upload files directly, record from a camera, or record our screen.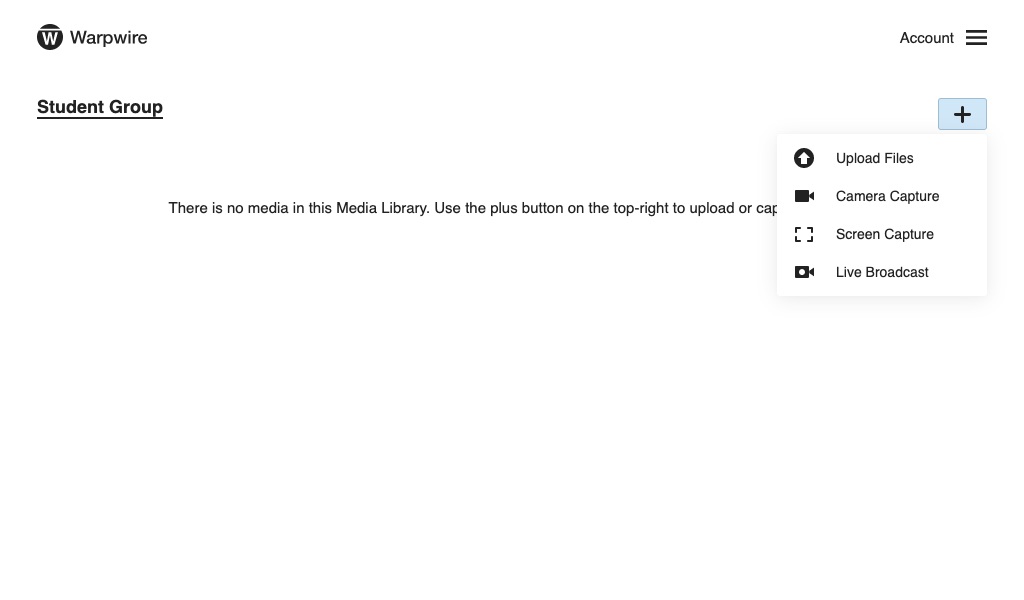 Now, anyone with access to the library will be able to see these videos, whether they login directly, we embed it on our student group's blog, or we send them a link.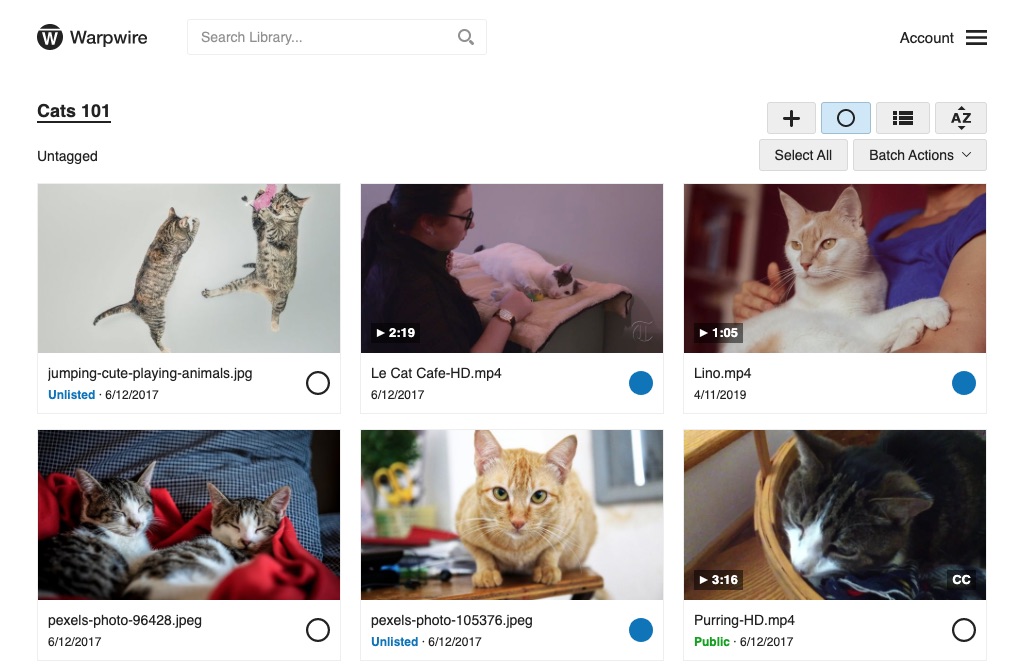 This Media Library can act as a repository for all the multimedia content the student group needs.